Rum of the day 1
Rum Explorer Thailand 5 YO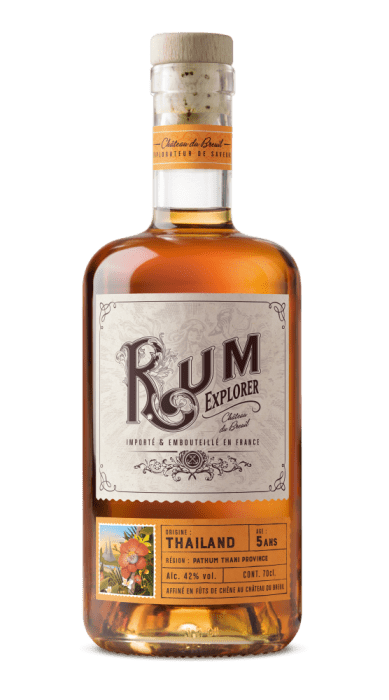 8 month on Bourbon Cask
Our history is one of heritage. The brand's origins and roots are associated with the legendary Château du Breuil. A true Normandy flagship property, for over 400 years the estate has been owned by prominent families who have lovingly preserved it. La Spiriterie Française, Château du Breuil Normandy is therefore an intelligent combination of 67 years of history and future ambitions, the coming together of several identities with complementary backgrounds and approaches. It possesses a collection of styles that lend themselves to the enrichment of the aromatic profiles of its spirits taking drinkers on new sensory journeys.
THE REFINING OF OUR CELLAR MASTER: This rum from Thailand has been refined for several months in the cellars of Château du Breuil. Its stay in American oak barrels gives it notes of coconut, pepper and liquorice.
Tasting Notes:
Color: Old gold. Nose: A nose marked by plants with scents of licorice, sage and bergamot. Everything is enhanced by notes of lime zest and black pepper. Palate: The palate is marked by empyreumatic flavors such as dark chocolate and caramel. The vegetal notes are more discreet. A finish on the gluttony of coconut.